teleCalm helps me out nightly. No more repeated calls at 3am!
– Sally, family caregiver
The phone system is working great! A real blessing!
teleCalm has given my mom the freedom to talk with family. We love teleCalm!
– Susan, family caregiver
This service is awesome.
– Jeanie, family caregiver
teleCalm takes a weight off our shoulders! We appreciate the peace of mind.
Caregiver Feedback is Priceless
Caregivers have a difficult role. Everyday issues become emotionally draining. Caregiving consumes lots of time and money. It shouldn't be so stressful.
We work hard to solve everyday problems faced by caregivers and their loved-ones. Ongoing caregiver feedback guarantees that we continue to provide the best possible phone service for families living dementia.
We're honored to serve our caregiver customers. And we're working to make it easier for verified customers to leave reviews. Meanwhile, we'd like to share some of our favorite customer feedback.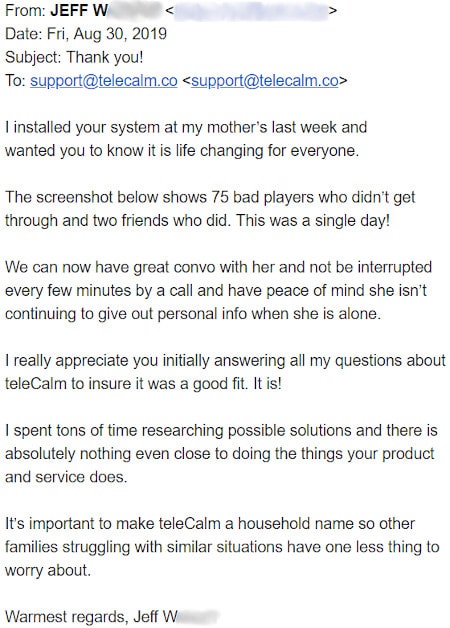 More Feedback from Phone Calls, Emails and Chats
We are seeing that teleCalm is helping now. We had hundreds of dollars trying to call 411 which now is no longer an issue.
– Meredith
I am a happy camper. This works BEAUTIFULLY!!!! I am telling EVERYONE with aging parents that I know about it incredible!!!! Thank you.
– Julie
teleCalm is such a great product and so easy for my mom to use even when she has a hard time remembering what to do, she can still figure out how to call me.
-Susan
My sister and I love teleCalm. The service has already prevented several spam calls from coming through to Daddy. This service is awesome.
– Jeanie
teleCalm is great. I am very appreciative of the outgoing repetitive call blocker. It's been a game changer.
– Sally
teleCalm is a wonderful thing and has definitely helped my sanity. There are days that mom calls up to 20 times but with teleCalm I can just call her back when convenient. So helpful!
– Peggy
I love the app and love the service. It is a great way for me to keep connected to my father, while keeping him from contacting or being contacted by sources that pose a risk. I'm a big fan and would recommend the service to anybody!
– Jon