How to Stop Problem Phone Calls – Phone Service For Alzheimer's and Dementia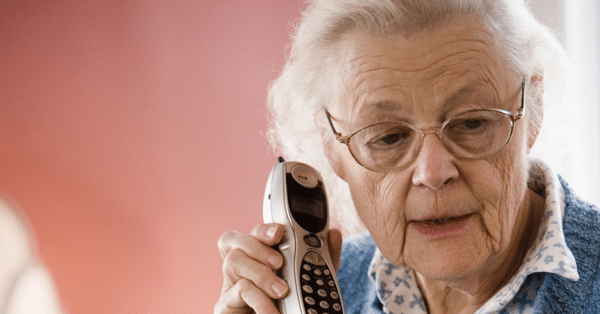 "teleCalm has given my mom the freedom to talk with family. We love teleCalm!"
-Susan, family caregiver
teleCalm Caregiver℠ stops Problem Calls
teleCalm Caregiver Benefits
teleCalm Solves Common Telephone Problems
Seniors with dementia often have trouble using a telephone.  Generic phone service doesn't help. Frustration grows with age and dementia progression.
Fortunately, seniors and caregivers don't need to suffer.
teleCalm is the best phone service for seniors with dementia. Read on to learn why…
Repeat Dialing Habits
Sometimes, seniors with dementia or Alzheimer's develop erratic or repetitive behaviors. In some cases, a senior may fall into a habit of calling the same person over and over again. This can be very disruptive to caregivers and other family members.
Many caregivers struggle with ad-hoc ways to deal with phone problems like this. Sometimes caregivers resort to taking the phone away from their loved one.
teleCalm offers a better solution for compulsive phone dialing. This optional feature triggers when your loved one dials the same person too many times in a short period. teleCalm automatically blocks additional repeat dialing attempts. We provide a gentle redirect voice message to your loved one. We simply tell your loved one that the person they're trying to call is not available. After your loved one stops the repeat dialing behavior, they can dial normally again.
Unwanted Late-Night Calls
Seniors with dementia and Alzheimer's often lose track of time. We've heard many stories of caregivers trying to deal with their loved ones placing calls at bad times. For example, one senior had a habit of calling their loved one at 3am on a regular basis. It seems the senior was expecting a ride – they thought they were late for the hairdresser. Night after night, the caregiver had to explain that it was late, and that the hairdresser appointment was after sunrise. The senior's behavior was disruptive and stressful, and caused the caregiver to lose sleep.
Caregivers need to take care of themselves. Many caregivers work hard to maintain a day job while they care for their loved one. Others need to focus during the day, without interruption from their loved one.
You can manage unwanted calls during special times using teleCalm Caregiver. Simply use the mobile app to turn on Quiet Hours℠. You can select two different time ranges. Select nighttime Quiet Hours for a good night's sleep. Select daytime Quiet Hours to arrange personal time during the day. You can even record a gentle redirection message in your own voice. If your loved one dials during quiet hours, they'll hear your personalized message. Quiet Hours also defines times when nobody can bother your loved one. This stops incoming calls from disrupting your loved one when they need to rest.
Robocalls, telemarketers and scammers
Phone problems often start with robocalls, scammers and telemarketers. Seniors with dementia are especially vulnerable to telephone scams.
Common tactics include the IRS scam, the Grandparent scam, or the 'One Ring Caribbean Call' scam.
There are well promoted ways to stop unwanted calls and protect yourself and your loved-one from fraud. But these techniques become more and more difficult as we age. Such techniques are often not possible for seniors coping with Alzheimer's or dementia.
In contrast to other solutions, teleCalm Caregiver protects your loved one with dementia. As caregiver, you define who may speak with your loved one. When a caller dials your loved one, teleCalm checks them against your list of contacts.  Callers you have pre-approved ring straight through to your loved one. No other calls go through. Period. This robust mechanism stops all robocalls, telemarketers and scammers.
Inappropriate 911 Habits
teleCalm Caregiver phone service for dementia can stop false 911 calls, divert emergency calls to senior living staff, or connect seniors to our Priority Response EMT call center.
Our customers often tell us that false 911 calls cause problems. They ask how to stop a phone from calling 911. They tell us about seniors with dementia who keep calling police, even when there is no real emergency.
One example of a false 911 call is the 'perceived hostage scenario'. In this case, memory care residents call 911 and claim that they're being held hostage. They ask to be rescued. Typically, emergency teams usually must respond, even if they recognize a repeat false alarm caller from a memory care unit.
Habitual false 911 calls create unnecessary stress for caregivers and bog down emergency services.   Such habits can lead to fines for the senior, family caregiver or senior living community. It creates unnecessary stress. Penalties for false 911 calls vary widely. In extreme cases, inappropriate 911 calls can escalate to worse situations, such as police actually arresting the senior. Even professional caregivers struggle with ways to prevent false 911 calls.
Caregivers typically solve bad 911 calling habits by taking the phone away from their elderly loved one. Unfortunately, removing the phone only increases a senior's isolation.
teleCalm Caregiver phone service provides a better approach. With teleCalm, seniors can keep their phone, even if they have inappropriate 911 calling habits.
When you sign up for service, simply let us know if your loved one has a false 911 calling habit. If your loved one lives in a senior living comunity, we can disable 911 calls or divert 911 calls to a nurse's station. If your loved one lives in a private residence, we recommend our teleCalm Caregiver service + Priority Response. With Priority Response, calls to 9-1-1 will connect your loved one to a U.S.-based emergency response center. An EMT certified operator will speak with your loved one to determine the issue, then contact you to determine if emergency assistance is required. Contact us to discuss options and we'll help you pick the best solution.
"Our memory care residents can use the phone!"
"We don't worry about false 911 calls anymore."
– Executive Director, Senior Living Community
Caregiver Automatically Notifies Emergency Contacts
Many teleCalm customers care for loved ones living at home or in independent living. In such cases, it becomes even more important to alert caregivers in case of emergency.
When you sign up for Caregiver phone service, simply list up to one additional emergency contact. We'll take care of the rest. If your loved one calls 911, we'll promptly notify emergency contacts by text message. As a family caregiver, you'll know to check in and make sure your loved one is OK.
How Does Caregiver Stop Problem Calls?
teleCalm's protection starts when a caller dials your loved one, or when your loved one dials their phone.
First, teleCalm checks the call against your allowed contacts list. Then teleCalm checks for any additional rules you have defined such as quiet hours or repeat dialing. teleCalm blocks unwanted calls or sends them to voicemail. Desirable calls ring through.
What's the bottom line?
Your loved one can speak freely with family and friends.
As a family caregiver, you can create a safe and well-connected environment for your loved one.
It's that simple.
As a family caregiver
, use our mobile app to
manage your loved one's phone
.
Add trusted contacts and configure rules such as Quiet Hours or repeat dialing.
Use the app to review phone activity and listen to voicemail from allowed contacts and strangers.
Flag strangers as allowed contacts or flag them as blocked to prevent them from leaving voicemail.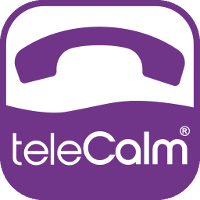 * Service Activation Required
** Mobile app used by family caregiver, NOT by senior
Use a Dementia-Friendly Phone with teleCalm Caregiver Phone Service 
Some phones work better than others for people with Alzheimer's and dementia. Hence caregivers need to think about their loved ones' abilities and limitations. As dementia progresses, it's important to pick a dementia-friendly phone that is familiar and easy to use.
Smart phones and cell phones may seem convenient. But they often become difficult for seniors as memory loss progresses. Smart phones can be hard to unlock and dial. Seniors with dementia or Alzheimer's frequently misplace smart phones and let them run out of battery power. These seniors face an especially rough time with cell phones, as they lose the ability to dial by name or number.
On the other hand, seniors love landline-style phones. Cords keep the phone where it belongs. Seniors prefer big buttons with a click feel.
When dialing by number becomes challenging, teleCalm customers prefer photo phones. With photo phones, a senior simply picks up the handset and touches a photo. teleCalm connects the call. The senior stays engaged and in control.
Caregiver easily moves from a home or apartment to senior living
teleCalm Caregiver makes transitions easy. Simply contact us when your loved one moves from one residence to another. We'll arrange for Caregiver phone service to move with them. There is no extra charge to move Caregiver service between locations. But we do request that you promptly notify us of any address changes.
Extra Features – Not Higher Costs
Other telephone companies hide the true cost of service.
With teleCalm, you only pay the advertised amount. We built teleCalm to serve seniors and their caregivers without breaking the bank.
Our Caregiver service replaces your loved one's existing home phone service.
Keep your loved one safely connected.
All for about the same cost as regular phone service.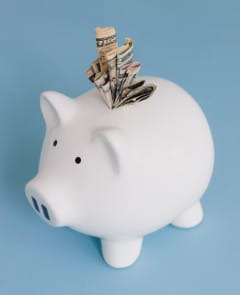 For Senior Living Staff
Differentiate your community and show that you're a cut above the rest. Use teleCalm to solve 911 false alarm problems and get instant notication when residents DO place legitimate 911 calls.
At move-in, families often ask if they can replace mom and dad's cell phone with resident phone service. Most senior living communities simply recommend commodity phone companies. However, other phone companies do not understand the unique needs faced by caregivers and seniors dealing with dementia – they offer phone service to seniors as an afterthought.
In contrast, teleCalm was specifically built to serve the needs of caregivers and communities geared towards seniors.
Still Have Questions?
Chat live with our US-based Customer Success team by clicking the Chat bubble on the bottom of your screen, or call/text/email.
Let us know what you think.
We're here to help you!